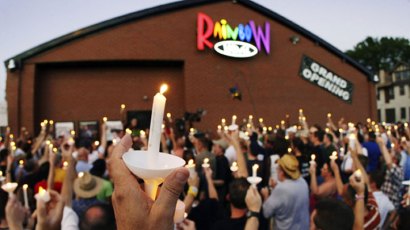 By FRANK HEINZ
Fort Worth city administrators have proposed a nearly half-million-dollar settlement with Chad Gibson.
Gibson, who was hospitalized with a head injury
following the June 28, 2009 raid
at the Rainbow Lounge, has agreed to settle with the city for $400,000 in his claim for damages. Gibson said his injury was a result of excessive forced used against him during the raid.
"Both parties have agreed to a settlement, which will be presented to the City Council on Tuesday. In light of the circumstances, city staff believes proceeding with this settlement is the right thing to do, not only to bring closure to those involved, but also to prevent lengthy and even more costly litigation," said James Lamers, Manager, Office of Media and Public Affairs for the city of Fort Worth.
Despite the Fort Worth Police Department
suspending three officers
and the TABC
firing two officers
following the raid, the investigations by both agencies determined there was no excessive forced used during the raid.
More than a year after the raid,
the city dropped all charges
against Gibson and three other men who had been accused of public intoxication. Gibson was also accused of assault
for a scuffle with TABC agents
.
The city said the settlement is not an admission of liability in Gibson's case and is only being proposed to "avoid time-consuming and costly litigation."
The settlement must be approved by the City Council.
Like many cities, Fort Worth is currently facing a massive budget deficit. The city said the the Financial Management Services Director certifies that funds to pay the settlement are available in the current operating budget of the Risk Management Fund.
=end=