According to the university's college newspaper,
The Hilltop
,
students organized a candlelight vigil
for Aiyisha Hassan, 19, who attended Howard University from 2008 to the spring of 2010, on Thursday night.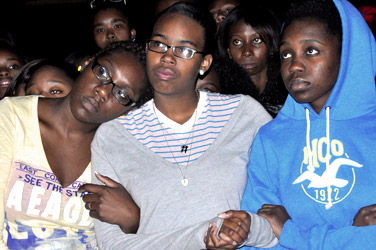 Students at Thursday night's vigil
Amari Ice, 22, president of C.A.S.C.A.D.E., the Coalition of Activist Students Celebrating the Acceptance of Diversity and Equality, Howard University's LGBT student group, said Hassan was a lesbian who attended C.A.S.C.A.D.E. meetings regularly.
As the clock tower struck 10:00 p.m. and the bell rang, the flagpole became the site of prayer and remembrance Thursday night. Students gathered to mourn the loss of Aiyisha Hassan, who committed suicide on Tuesday. A former Howard University student died from suicide on Tuesday, Oct. 5, in her home state of California.
After attending Howard from Fall 2008 until Fall 2009, Hassan returned to her California home. Details about her are forthcoming but for the night, students showed solidarity in remembering a fellow Bison.
Melech Thomas, senior communication and culture major, organized the impromptu vigil. He was in front of Douglass Hall around 1 p.m. Wednesday when he saw a young woman crying. He gave her a hug and asked what was wrong. The member of Misses at Meridian Outreach Society, an organization Hassan helped to establish, was crying because she found out about Hassan's death.
Thomas immediately spread the word through Twitter, asking students to meet at the flagpole for prayer.
"Desperate times call for desperate measures," he said at the start of the vigil.
Mya Aaten-White, a junior Afro-American studies and political science major, relayed a statement sent to her from Oyetewa Oyerinde, president of Misses at Meridian Outreach Society.
"The Misses are deeply grieved and are handling that amongst ourselves. But we appreciate everyone honoring our sister."
But, Thomas said, the night wasn't only about Aiyisha but also about the recent outbreak of suicides among young people.
Among them, An 18-year-old Rutgers University student committed suicide after video of him engaging in sexual activity surfaced on the Internet. His roommate allegedly taped him without his knowledge and posted the video online.
Also, a 13-year-old Hope Witsell hung herself from her canopy bed after being bullied by classmates. A girl got a hold of a sexually natured photo Witsell had sent via text message to her boyfriend and sent it out to area schools.
Thomas asked students to raise their hands if they knew someone who committed suicide, if they themselves had ever contemplated or attempted suicide or experienced severe depression. Hands went up in the air throughout the circle.
"It broke me," said Victoria Kirby, a graduate student, as the question posed. People may ask how was your day, she said, but do not wait for the response. "You never know what people are going through."
After a moment of silence for Hassan, CASCADE President Amari Ice started the wave of reflections. Some shared their personal stories of depression and suicide while others issued calls to action. Ice stressed the importance of showing love and support so that people don't feel hopeless and trapped.
"The story isn't over," the audience said together after Ice spoke and all others after him.
"We all are going through something, so to treat each other with hatred and malice behavior is ludicrous and it really shouldn't be tolerated," said senior Tiffany Johnson.
Several students opened up about their struggle with suicide. Joseph Reaves, a junior and member of Chapel Assistants, shared his bout with depression.
"I was in trouble, I was in pain, I had the pills in my hand, I had the knife in my hand," said Reaves, after a rendition of the song "Because He Lives."
God was in that room with him, Reaves said. He was proud to admit that he is a client of the Howard University Counseling Service and encouraged others to seek the help they need.
Senior Danielle Martin thought about killing herself at the age of 13.
"When I was 16, had my sister not been in the other room, I wouldn't be here," she said, fighting back tears. "I came to let somebody know, I'm a survivor and you are too."
-end-