World Team Tennis raises more than $500,000 for HIV/AIDS organizations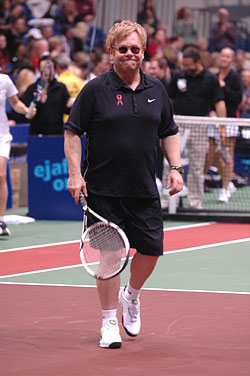 Tennis icons
Billie Jean King
, Andre Agassi,
Martina Navratilova
and other players joined forces at American University on Monday, Nov. 15, and raised more than $500,000 for the
Elton John AIDS Foundation
and the
Washington AIDS Partnership
.
The World Team Tennis (
WTT
) Smash Hits 2010 Reception and Auction event featured Elton John and others facing off on two teams in a tennis match.
According to WTT, the auction portion of the evening raised $267,000. A ''hitting session'' with Agassi and Stefanie Graf sold for $50,000. Other auction items sold included two Elton John signed piano benches.
Half of the money raised during the auction will benefit the Washington AIDS Partnership, an organization that invests resources in local organizations that are striving to improve prevention efforts, testing and care services in the D.C. area.
The Elton John AIDS Foundation operates out of New York and London, both sites working to ''support innovative HIV prevention programs, efforts to eliminate stigma and discrimination associated with HIV/AIDS, and direct care and support services for people living with HIV/AIDS.''
-end-