By Robyn


The people listed inside have three things in common...and maybe more. First of all, they are all dead and have died since last November 20. Secondly, they are all transwomen. Thirdly, they died as a result of nothing more than intense hatred. One only needs to survey the causes of death to verify that. In many cases, the rage that the murderer must have had is evident in the number of stab wounds, the dismemberment or other mutilation evident on the bodies, or the execution that clearly had taken place (please note how many had been shot in the head).

I provide this list, cribbed from this site, not to be a downer...though it sure brings me down...but to honor their lives and the courage it took to live them.

Tomorrow is Transgender Day of Remembrance. We will not forget.




Brenda
Location: Rome, Italy
Cause of Death: Smoke inhalation
Date of Death: November 20, 2009
Sources: ADN Kronos International
BBC
ADN Kronos International
ADN Kronos International


Brenda, who was Brazillian, worked as a prostitute, according to Italian media, and one of her customers was the governor of the Lazio region, Piero Marrazzo. Many people think she was killed to silence her. She died from smoke inhalation to death when her apartment was set on fire with her in it. Her laptop was found to have been submerged in water before the fire.

--------
Wanchai Tongwijit
Location: Wichit, Phuket City, Thailand
Cause of Death: Shot in head
Date of Death: November 21, 2009
She was 35 years old.
Source: Phuket Gazette

I invite you to Made for Flight, a transgender youth and ally empowerment project funded by Every Voice in Action. Wanchai had a kite made in her memory there, as did many of these victims.

--------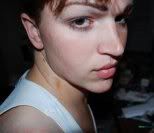 Mariah Malina Qualls
Location: San Francisco, California
Cause of Death: Blunt force trauma to the head.
Date of Death: December 9, 2009
Mariah was 23 years old.
Source: KTVU

Mariah was a volunteer for the community in both San Francisco and San Jose.

--------

Estrella (Jose Angel) Venegas
Location: Mexicali, Mexico
Cause of Death: Shot in the chest and forehead
Date of Death: December 13, 2009
Estrella was 32 years old.
Source: Estrella's brother.

--------
Wong
Location: Bernama, Malaysia
Cause of Death: Wong had stab wounds in the right side of the stomach and the left side of the chest, plus bruises in the right hand.
Date of Death: January 2, 2010
Wong was 64 years old.
Source: Link

In Malaysia, transpeople are neither male nor female, but rather live in legal limbo. It is estimated that there are 100,000 transsexual people in Malaysia (i.e. >1 out of every 200 people in the country).

--------

Myra Chanel Ical
Location: Houston, Texas
Cause of Death: Many wounds and defensive bruises.
Date of Death: January 18, 2010
Myra was 59 years old.
Source: Fox-Houston

I wrote about this in Life, Liberty and Pursuit of Happinefs


Myra Chanel Ical's life was deemed not worthy of continuation, by someone unknown. And after her life was taken, Houston police and media thought it was appropriate to destroy her dignity as well.


--------
Derya Y.
Location: Antalya, Turkey
Cause of Death: Stabbed to death
Date of Death: February 8, 2010
Derya was 35 years old.
Source: Bianet

--------
Fevzi Yener (nickname – Aycan)
Location: Sehremin, Istanbul, Turkey
Cause of Death: Stabbed 17 times
Date of Death: February 16, 2010
No age was reported.
Source: Istanbul LGBTT

Seventeen times. Apparently the perp didn't want any doubt about how he felt.

--------

Amanda Gonzalez-Andujar
Location: Queens, New York
Cause of Death: Strangulation
Date of Death: March 27, 2010
Amanda was 29 years old.
Source: NY Daily News

I mentioned that in passing in Transdimensional News. It was proceded by this:


Jared Polis says that an inclusive ENDA will come up for a vote in the next couple of weeks and will pass by a substantial margin...


Yeah, right.

--------
Unidentified transgender woman
Location: Jakarta, Indonesia
Cause of Death: Dismembered and mutilated
Date of Death: estimated to be the last week of March.
Source: Jakarta Post

--------
Unidentified transgender woman
Location: Chihuahua, Mexico
Cause of Death: Beheaded
Date of Death: April 3, 2010
Source: Carla Antonelli

--------


Toni Alston
Location: Charlotte, North Carolina
Cause of Death: shot to death
Date of Death: April 3, 2010
Toni was 44 years old.
Source: Charlotte Observer

--------


Ashley Santiago Ocasio
Location: Corozal, Puerto Rico
Cause of Death: Stabbed to death
Date of Death: April 19, 2010
Ashley was 31 years old.
Source: Edge-Ft. Lauderdale

--------

Azra
Location: Izmir, Turkey
Cause of Death: Shot in the back of the head
Date of Death: April 27, 2010
Azra was 30 years old.
Source: IGLHRC

--------


Chanel (Dana A. Larkin)
Location: Milwaukee, Wisconsin
Cause of Death: Shot in the head
Date of Death: May 7, 2010
Chanel was 26 years old.
Source: Edge-Boston

--------
Unidentified transgender woman
Location: San Cristobal, Dominican Republic
Cause of Death: Raped and shot 3 times
Date of Death: May 15, 2010
Source: Transsadominicanal
El Nacional

--------
Angie Gonzalez Oquendo
Location: Caguas, Puerto Rico
Cause of Death: Strangled with an electrical cord
Date of Death: May 24, 2010
Angie was 38 years old.
Source: Edge-Boston

--------
Sandy Woulard
Location: Chicago, Illinois
Cause of Death: Shot in the chest
Date of Death: June 21, 2010
Sandy was 28 years old.
Source: Chicago Sun Times (The victim was identified as Credale Woulard)
Edge-Los Angeles

--------

Roy Antonio Jones III
Location: Southampton, NY
Cause of Death: Punched repeatedly and grabbed by the neck
Date of Death: August 1, 2010
Roy was 16 Months old.
Note: 20 year old Pedro Jones told police he had struck the infant several times with a closed fist. Jones said he was "trying to make him act like a boy instead of a little girl."
Source: 27East.com

Nobody is claiming that Roy was trransgender. But he sure was a victim of gender bias. Can anyone explain how a 16 month-old baby knows the difference between how a boy acts and how a girl acts? Or how an adult determines the difference?
--------
Imperia Gamaniel Parson
Location: San Pedro Sula, Honduras
Cause of Death: shot
Date of Death: August 30, 2010
Source: Bikya Masr

--------
Gypsy
Location: Houston, Texas
Cause of Death: shot to death
Date of Death: September 6, 2010
Source: Cristan Williams via the Houston Police Department

--------

Victoria Carmen White
Location: Maplewood, New Jersey
Cause of Death: shot
Date of Death: September 12, 2010
Victoria was 28 years old.
Sources: Baristanet
News 12

I wrote about this case in October Trans News and Halloween Hash. This murder took place just a few miles from where I live.

--------
Justo Luis Gonzalez García
Location: Juana Diaz, Puerto Rico
Cause of Death: shot in the head
Date of Death September 13, 2010
Justo Luis was 34 years old.
This is 1 of the 2 transgender people found murdered, they were found together. The second is unidentified.
Source: GLAAD Blog
elnuevodia.com

--------
Unidentified person dressed in women's clothes
Location: Juana Diaz, Puerto Rico
Cause of Death: shot in the head
Date of Death: September 13, 2010
This is 1 of the 2 transgender people found murdered, they were found together.
Source: GLAAD Blog
elnuevodia.com

--------
Irem
Location: Bursa, Turkey
Cause of Death: Drowned in her apartment
Date of Death: September 20, 2010
Source: Richard Köhler, Transgender Europe

--------

Stacey Lee aka Stacey Blahnik
Location Philadelphia, Pennsylvania
Cause of Death: unreported by police
Date of Death: October 11, 2010
Stacey was 31 years old
Source: Phill.com
Philly.com

I wrote about Ms. Lee's murder in October Trans News.

--------
Unidentified person dressed in women's clothes
Location: Sheikhupura, Pakistan
Cause of Death: Brutally tortured and burned
Date of Death: November 6, 2010
Source: The Express Tribune

--------
Unidentified Eunuch
Location: Sheikhupura, Pakistan
Cause of Death: Brutally tortured and burned
Date of Death: November 7, 2010
Source: The Express Tribune

Someone had a great idea in Pakistan of having transwomen serving legal notices. It may not have worked all that good.

--------
Emanuelly Colaco Taborda
Location: Parana, Brazil
Cause of Death: Strangled
Date of Death: November 9, 2010
She was 39 years old.
Source: mixbrasil